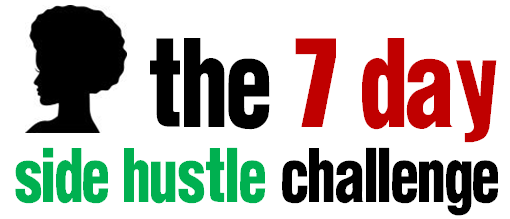 This is the Day 6 post for the 7-Day Side Hustle Challenge. Learn more and join us here!
Now that you know how you're going to make money from your side hustle, you've gotta start marketing the hell out of it. And the best way to promote your side hustle is to, well, tell everyone you have a side hustle! How do you do that? Make sure you have business cards specifically for your side hustle. This is one of the most important things you can do for your budding business and your personal brand. You probably meet people all the time – at parties, at networking events, in the grocery store – that might want to learn more about what you do outside of your "regular job."
See how a separate business card could come in handy? Even when I was working a full-time job, I kept a stack of personal business cards in my purse to let people know about my blog and where to contact me outside of my 9 to 5. Your assignment for today is to get a set of business cards for your side hustle. You should invest in a pack of at least 250 to start with.
Where to Get Them
My favorite place for business cards is Vistaprint. I've used them for the past 10 years because of their low cost, easy-to-use website and quick delivery. And when I say low cost, I mean low cost. New customers get 250 premium quality, color business cards free! (You just pay for shipping.) Click here to order yours.
 They also have a ton of professional business card templates, but I always keep mine very simple.
Other people swear by Moo cards. I've heard good things about using them, especially for promoting your blog or website. They're a bit more expensive, but the designs they have are more beautiful and sophisticated than anything that Vistaprint offers.
What to Put On Them
Your name
Your title (you can use President, Principal, writer, blogger or consultant)
The name of your blog, if you have one
Your tagline, slogan or motto, if you have one
Your blog/website address
Your email address
Your phone number (if you want to give it out)
Your social networks (if you want to give them out)
If you choose to get business cards for your side hustle during the challenge, please share your experience with us in the comments! If you have photos of them, go ahead and post those, too.
Comments
comments