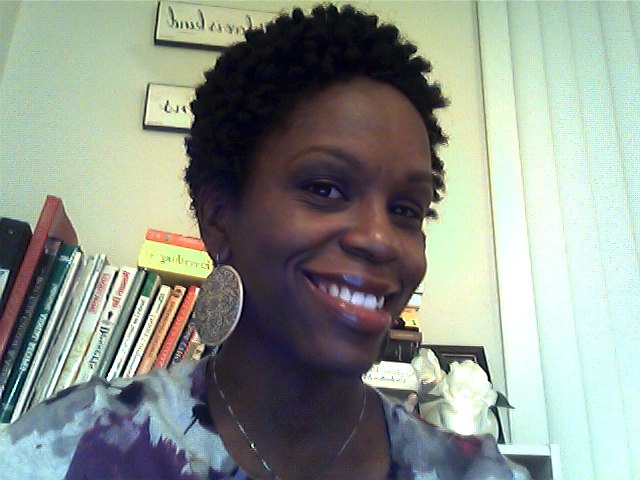 Ever since I did the big chop back in March, I've been experimenting with different products for the perfect natural hair care routine. I'm not really that concerned about growth or curl pattern, so my criteria was mostly around the following three areas:
How do I keep my hair clean?
How do I keep my hair moisturized?
How do I maintain some type of cute style that I could rock on the regular?
It also had to be simple and fairly inexpensive. And I think I've finally figured it out.
How I Keep My Hair Clean
I've been using Giovanni Products since June and they work really well on my hair. Their organic hair care products smell good and are reasonably priced ($7 each shampoo and conditioner at Whole Foods or on Amazon.com). I use the Giovanni Smooth as Silk Shampoo
together with Giovanni Smooth as Silk Conditioner on my hair about once a week. What I love about Giovanni is that their products get my hair super clean but without drying it out.
How I Keep My Hair Moisturized
After my initial foray into product junkie land, I realized that the most expensive products are not always the best ones for your particular hair type. On the recommendation of other naturals, I tried several different oils, from Carol's Daughter to castor oil to jojoba oil. It turns out that my hair loves the most simple of these combinations: coconut oil and water. I use Barlean's Organic Oils Extra Virgin Coconut Oil (
about $8 at Whole Foods or on Amazon.com) in a squirt bottle to apply oil to my scalp every other day. (I use it in its liquefied form to make it easier and faster to get into my scalp.) I also use a spray bottle of water with a few drops of coconut oil when I want to freshen up my hairstyle.
As for conditioner, I use Giovanni Weightless Moisture Direct Leave-In Conditioner every few days. I just wet my hair in the shower and then apply a quarter-sized amount all over my hair when I get out. Instant softness and manageability!
How I Maintain My Hairstyle
I've been rocking finger twists for a few months now – tight little coils that give my hair a ton of texture (pictured above and below). Sometimes I just pick it out into an afro after I wash it, but mostly I twist it up afterwards. I literally just twirl a small section of hair around my finger and it makes a little coil. For me, it works best when my hair is completely dry. Once I twist my whole head (which takes a few hours, so I have to do it on days when I don't really have anywhere to be), it stays in the hairstyle for about a week. To keep it from drying out, I put coconut oil in my scalp and on the hair itself, spraying with water when it needs extra moisture. To preserve the style, I sleep with a bonnet on my hair, which also reduces frizz.
So there you have my "minimalist" natural hair care regimen: Giovanni, coconut oil, water and my trusty bonnet. I love it because it's quite simple for me to maintain my hair now and I want to keep it that way! It's reduced my "get out the door time" to about half an hour and I get so many compliments on the hairstyle itself. How have you been able to simplify your natural hair care routine?
Comments
comments