If you've been wanting to try online dating, this weekend would be the perfect time! From July 20 to July 22, Chemistry.com
 is offering one of their "free communication weekends," which means that if you sign up now, you can get access to ALL Chemistry.com subscriber benefits and site features at no cost through Sunday, July 22 11:59PM Central Time. If you've never heard of the site before, Chemistry.com is affiliated with Match.com
, another great online dating site that I recommend. But what makes Chemistry different is that they provide an in-depth look at who you are and what you want in a relationship before sending you personalized matches with the potential to trigger "chemistry."
How to Sign Up for Chemistry's Free Communication Weekend
In order to take advantage of Chemistry.com's free communication weekend, you will need to complete the registration form and personality test on the website first. When I did it, it took me about 15 minutes to complete my profile, take the personality test, and upload a photo. (But keep in mind that I already had my "dating bio" ready using the wording that I post on other dating sites. If you haven't yet crafted something that describes you and what you're looking for in a few paragraphs, it may take you more like 30 minutes to an hour to fill out the profile.)
For more tips on how to write your online dating profile, plus do's and don'ts while navigating the process, make sure you read my popular guide:
A Brief Guide to Getting Started with Online Dating
Below is a detailed review of my experience with test-driving Chemistry, during one of their communication-free weekends. It should give you an idea of what to expect from the site and how to maximize your free trial on there.
My Results from Test-Driving Chemistry
My Dating Personality Was 100% Accurate
This was the second time I've taken a personality test for an online dating site (the first was for eHarmony), and it was eerily accurate. It's like they had interviewed all my family and friends and created a picture of what I'm really like. According to Chemistry, I'm an Explorer/negotiator.

They showed two explanatory boxes that highlighted the characteristics of each of the two personality types I possess.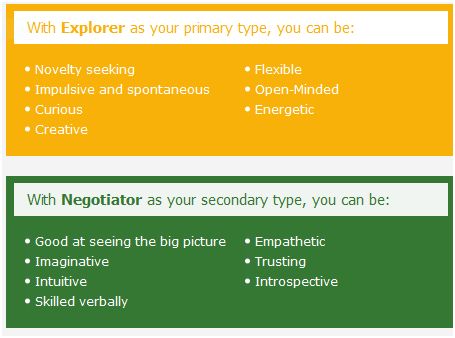 It was pretty generic at first, but true. It got a lot more specific, though.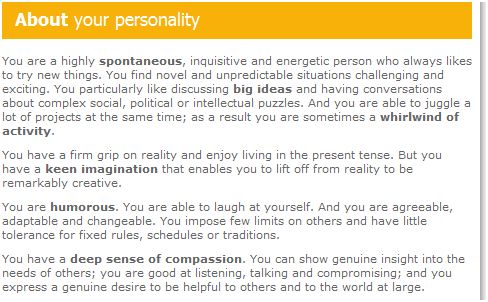 Whoa. That's pretty much me in a nutshell. Then came the piece that explained how I am in relationships based on my personality.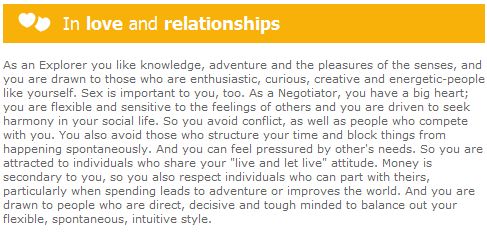 What?! Had they been talking to my ex-boyfriends? I tend to choose men who balance out my idealistic/dreamy side a bit. Then came the final kicker that showed me how my personality style relates to others in dating.

I definitely get bored with many of the men I date. I've always intuitively known the reason why, but Chemistry confirmed for me that this is because our personalities are not necessary compatible.
The Quality of My Matches
After I completed my profile and personality test, I received a total of 10 matches. I didn't have enough time to go through them all, but in general, I liked what I saw. The great thing about Chemistry (which Match and eHarmony STILL don't do very well), is that they make it clear how much you have in common based on both your profile AND your personality test. This is how me and my first match stacked up.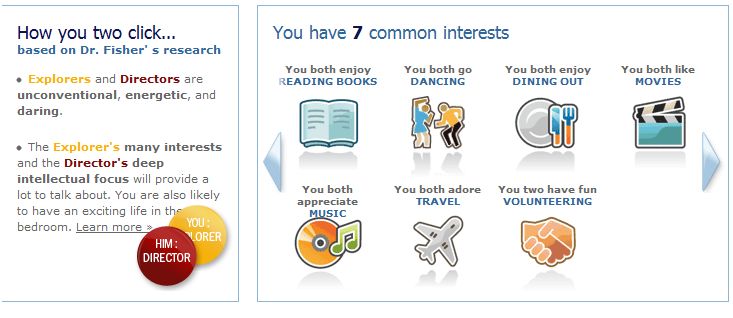 Cool, huh? Turns out I was immediately interested in and attracted to my first match, so I clicked on "I'm interested" and was able to send him a list of icebreaker questions. I also had the opportunity to send emails, which I probably should have done to avoid wasting time with the initial "flirting" phase. I ended up really liking one guy I met on there and ended up talking to him on the phone.
Overall Recommendation
While the subscription price for Chemistry.com was a bit higher than Match.com
 (in 2010, I'm not sure if or how much the pricing has changed since then), I felt that I was able to glean greater insight into the personality of my potential matches. Since personality is very important to me in a man, I appreciated the focus they place on this relationship aspect. During the trial, you get three full days to start connecting with guys you might like. If I had had more time available during the weekend I tried out the service, I definitely would have talked to more guys and maybe even set up a date or two.
And even if you don't end up clicking with anyone on the site, I believe they offer a fantastic value just by offering you the personality test. Knowing more about how my personality type interacts with potential partners has given me valuable insight that I have been able to use in my current dating adventures.
Are you gonna try out Chemistry.com this weekend? It's free and in my opinion, it's absolutely worth the test drive!
If you do try Chemistry this weekend, please leave a comment to share what your dating personality was. Do you feel it was accurate for you? Also, how many matches did you get? 
Get 3 Days FREE on Chemistry.com
!
Comments
comments