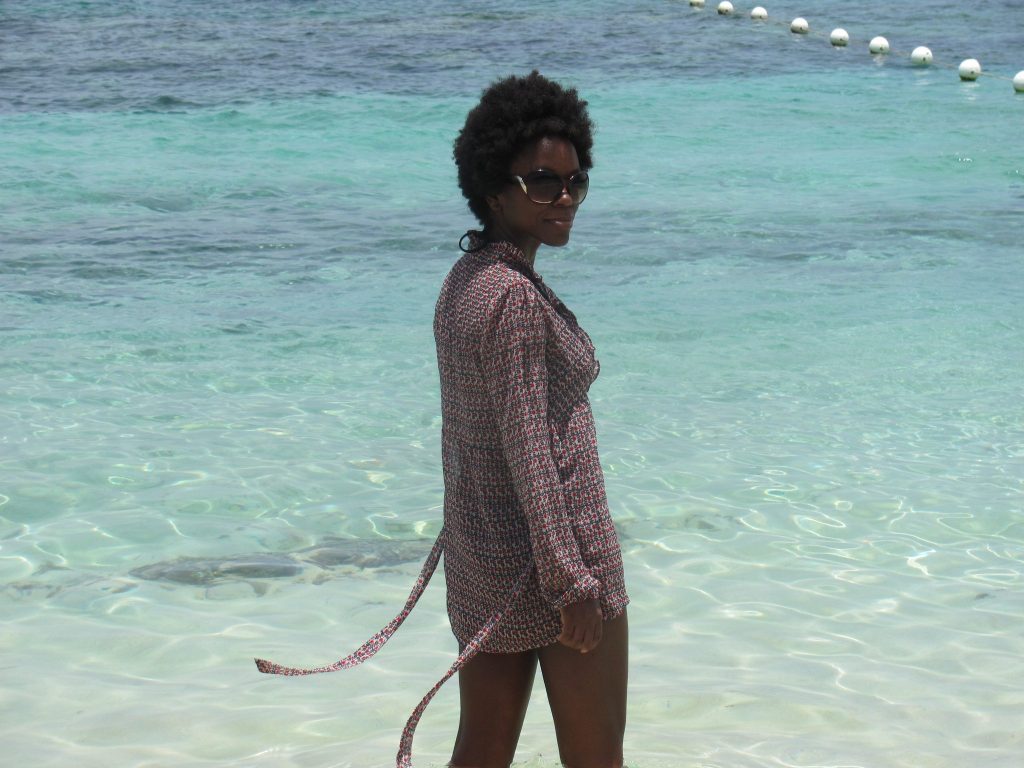 So, I'm back from a weeklong vacation in Jamaica. It was actually my third time visiting the island. Just like last year, I went with my sister and stayed in Montego Bay as we really like the vibe there. I'm still in withdrawal from the beaches, drinking rum punch everyday and having someone cook all my meals at the resort, but I wanted to share a few of my personal growth lessons with you that I learned from my time away.
Traveling as a Vegan is Easier Than I Thought
I was a little worried about what would be available for me to eat, now that I have embarked on a vegan lifestyle which involves not eating meat, eggs or dairy. Thankfully, our resort was VERY vegetarian-friendly with a great salad bar and lots of cooked vegetables, rice and beans/peas on their all-inclusive plan. I probably ate about 90% vegan while I was there (most of their breads contained eggs or milk and I may have consumed some chicken broth in my beans). But at least I never had to worry about having to eat meat for lack of any other options! Now when I travel, I know to research the food available at the hotel and surrounding area in terms of restaurants or cafes. With just a little planning, I can still experience the local cuisine without straying from my dietary goals.
Here is me with some vegan grub at the resort – I think that day there was a bomb black bean stew with rice, roasted veggies and a tomato-cucumber salad.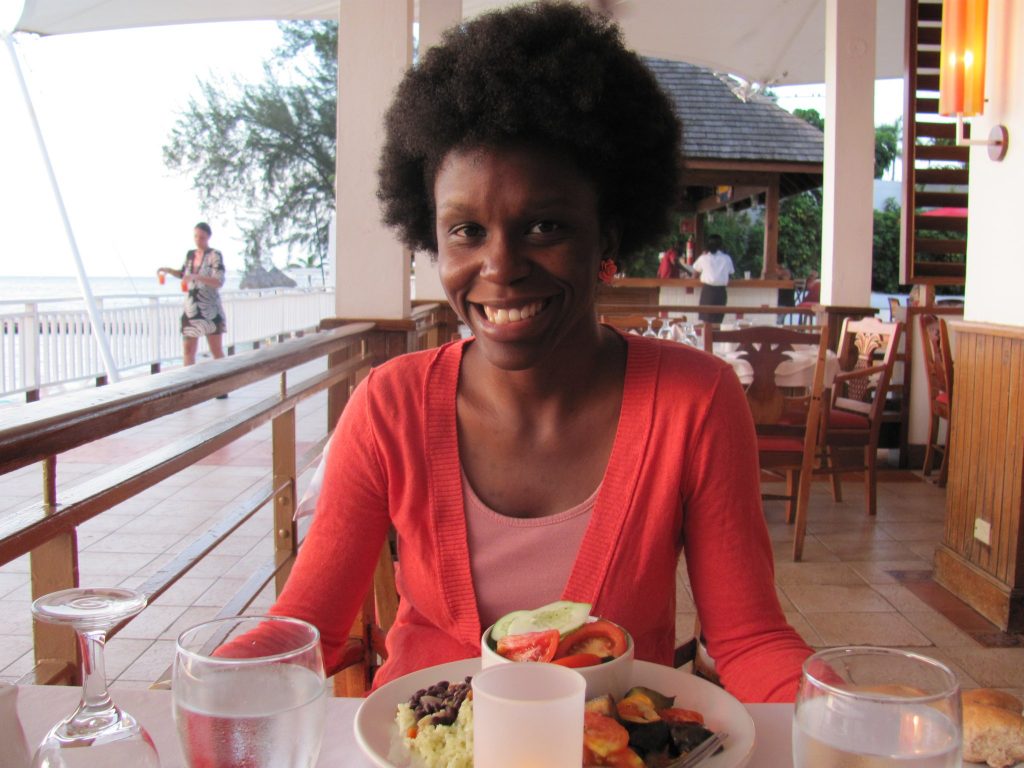 The Power of Meditation and Being Present in the Moment
I didn't party as much on this trip as I did last year as I just wanted to get away from everything and relax more than anything else. I wanted to finally read (and finish) a few books without any distractions. One of the books I read was You Are Here by Thich Nhat Hanh (um, don't ask me how to pronounce that). I really wanted to link you to it because I highly recommend the book as a guide to help you relax, meditate, and be more present in the moment. Meditation is something that I've been wanting to incorporate into my daily practice (plus I got a taste of it as part of my 21-day cleanse) and the book was THE perfect primer and push for how to do that.
During the trip, I was able to do a number of walking meditations in the garden and on the beach that brought me a sense of peace about where I am now in my life as well as clarity about where I want to go next. Literally. (More on that soon!)
Below is a little photo of me chilling on a hammock at the beautiful resort in Montego Bay getting my read on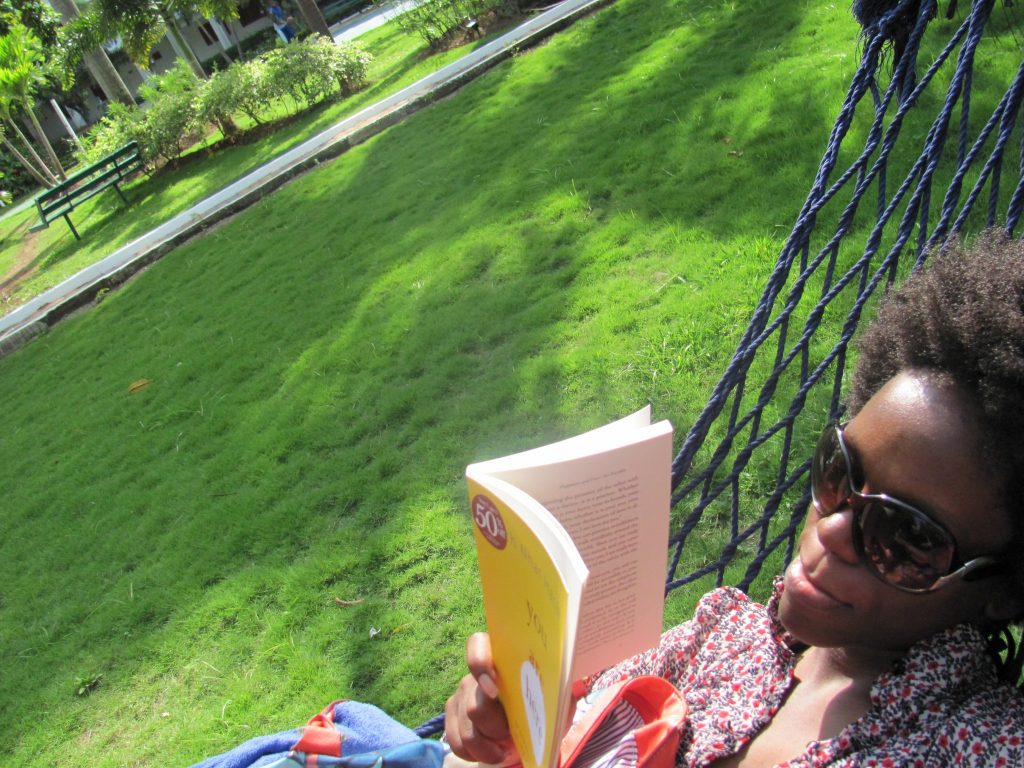 My Relationship with My Sister Has Improved Dramatically
Just the fact that my sister wanted to travel with me at all was a huge sign to show me that we've come along way from not even speaking to each other that much just two years ago. For the past two years, one of my personal commitments has been to strengthen my relationship with my sister. She is four years younger than me and we've constantly fought like cats and dogs. I always tried to tell her how to live her life and she resented me for it. She only recently revealed to me that she felt like she was in competition with me and my accomplishments. So, I have worked very hard not to judge her or her decisions, to offer advice ONLY when asked, and to support her in her personal choices. I get emotional even just typing that out because given the way we grew up, one of the things I always tried to do as a big sister was to assume the role as "protector" rather than a friend or a listener.
One of my greatest successes so far in my personal development journey has been to recognize just how much our relationship means to me and the shifts I have been willing to make to bring us closer as siblings and show my sister that I love her unconditionally. On this trip, I realized that my sister and I have already grown so much in our relationship. We were able to go out dancing, watch bad TV (read: Basketball Wives, Single Ladies, and Keeping Up with the Kardashians. Honestly, what the hell are those shows actually about, anyway???), lay out on the beach, go sailing and even try horseback riding together. For the first time, we experienced some real "girl talk" moments as sisters. My heart still gets full every time she calls or texts me, especially now that she specifically asks for my advice! She prefers that I not post pictures of her on my blog, so here is a photo of our feet as we relaxed together on the hammock at our resort. It's the perfect image to capture how great our relationship is now and how we will continue to grow in the future.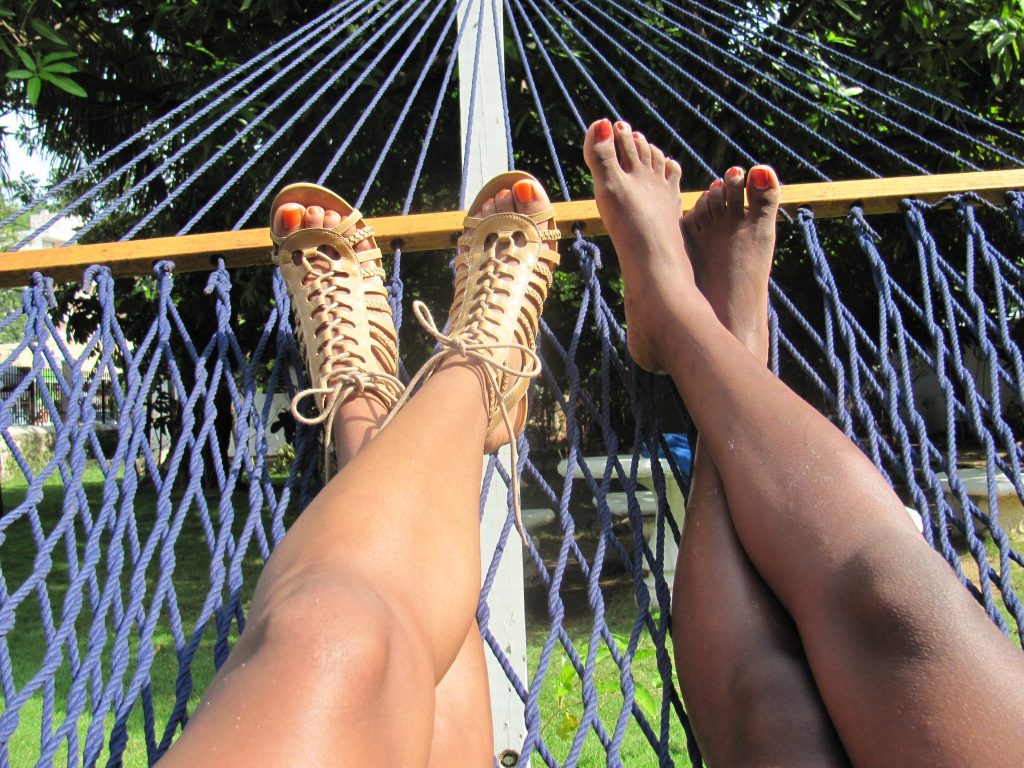 What about you? Have you experienced any important insights during your own travels?
Comments
comments