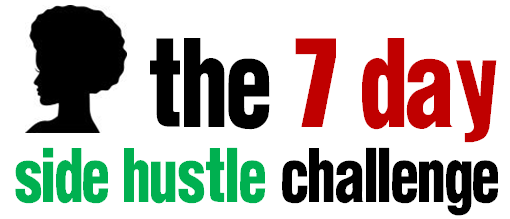 This is the Day 3 post for the 7-Day Side Hustle Challenge. Learn more and join us here!
Yesterday, you developed a three-word brand and thought more deeply about what reputation you want to have in relation to your side hustle. Today, you're going to take that three-word brand and incorporate it into your new-and-improved bio that you will be able to use on your website and social networks to promote yourself.
The reason why bios are so important for side hustles are because if you have a full-time job already, your network may only know you as an HR professional, for example. Then, when you try to sell your luxury candles on the side, people get confused about why you're doing it and what it has to do with your passion. So, you need to have a bio that you use when marketing your side hustle.
Here is what a great bio should include:
Your real name and name of your company (if applicable)
Your side hustle (tell us you do or sell)
Your "why" (share your passion, mission or reason for starting your side hustle)
Your education, experience or expertise (related to your side hustle)
Any special training or certification (credentials related to your side hustle)
Something interesting or memorable about you
You can write your bio in the first person or third person; it's up to you how you want to use it to communicate your brand to potential clients and customers.
Here's the official bio that I use in my business as an example:
Rosetta Thurman helps nonprofit leaders and passionate entrepreneurs change the world. She is the President of Thurman Consulting, an education company that offers speaking, training and coaching in the areas of leadership, entrepreneurship and social media. Her mission is to empower a new generation of leaders through personal and professional development. Rosetta is the co-author of How to Become a Nonprofit Rockstar, 50 Ways to Accelerate Your Career, an accessible, do-it-yourself map of how to build a successful career in the nonprofit sector. Since 2007, she has been blogging about nonprofits, leadership and social media on her popular blog at rosettathurman.com. Rosetta holds a Master's Degree in Nonprofit Management from Trinity Washington University and a Bachelor's Degree in English from Virginia Commonwealth University. She is proud to be a member of the Young Entrepreneurs Council and the Young Nonprofit Professionals Network. Rosetta has also taught nonprofit management as an Adjunct Professor in the School of Professional Studies at Trinity Washington University. In 2008, she was named a "New Leader in Philanthropy" by Greater DC Cares. In her free time, she writes poetry, cooks fancy food and listens to old school jams. She also tweets. A lot.
Post your new bio in the comments! It may also be useful to read other participant's bios to obtain ideas or to offer feedback.
Comments
comments