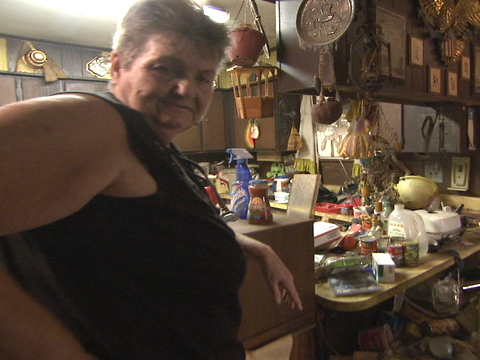 Last night I watched several episodes of the show Hoarders at my mom's house. I don't have cable at home, so this was my first time seeing the show, which is described below for the uninitiated:
Each 60-minute episode of Hoarders is a fascinating look inside the lives of two different people whose inability to part with their belongings is so out of control that they are on the verge of a personal crisis.
The show seems to highlight the stories of people who are beyond "pack rat" stage to the point where their houses are not only extremely cluttered, but filthy as well due to their compulsive hoarding. Compulsive hoarding is defined as the excessive acquisition of possessions (and failure to use or discard them), even if the items are worthless, hazardous, or unsanitary.
I was amazed at the the lifestyles of the people profiled in each of the episodes. The need to accumulate more and more stuff literally superceded their need for a clean house, hot water, indoor plumbing, a place to sleep, and even their family relationships. The premise of the show allows for a crew to come in and remove the junk from the house and provide cleanup to where the house is livable again. And that's where most of the hoarders freaked out. They did not want to part with any of their belongings. I was struck by how each of them tried to negotiate with the cleanup crew as to what they could keep from the piles of garbage they had built up.
But even more than that, I was struck by how each of the hoarders placed so much value in their "stuff." It was as if they had begun to define themselves by how much stuff they had. The more possessions, the more valuable they perceived their life to be.
When you think of it that way, many of us are just like the hoarders on the show (except for the hazardous and unsanitary part). Many of us do find an enormous sense of self-worth through our possessions, even though materialism breeds unhappiness.
Think about it.
Many of us still have clothes in our closet with the tags still on them from months ago. We spend money on status symbols like Louis Vuitton purses so we can feel like A-list movie stars, even though our reality is a B-list budget. In fact, a 2008 ING survey concluded that 41% of black women feel guilty about how much they spend on expensive brands.
While most of us may not be hoarding possessions to the point where our house is unlivable, our trend toward buying more and more stuff so we can feel good about ourselves is certainly unsustainable in the long run. So instead of condemning the hoarders for their extreme conditions, we might want to look at the commonalities we share with them in being consumed by consumption. We would all do well to become a little less attached to our possessions.
My current mantra for this aspect of my life is summed up nicely by the graphic below by Recovering Lazyholic:
Are you constantly yearning for more possessions in your life? Have you ever wondered what it would be like to stop buying and simply enjoy what you already have?
Comments
comments