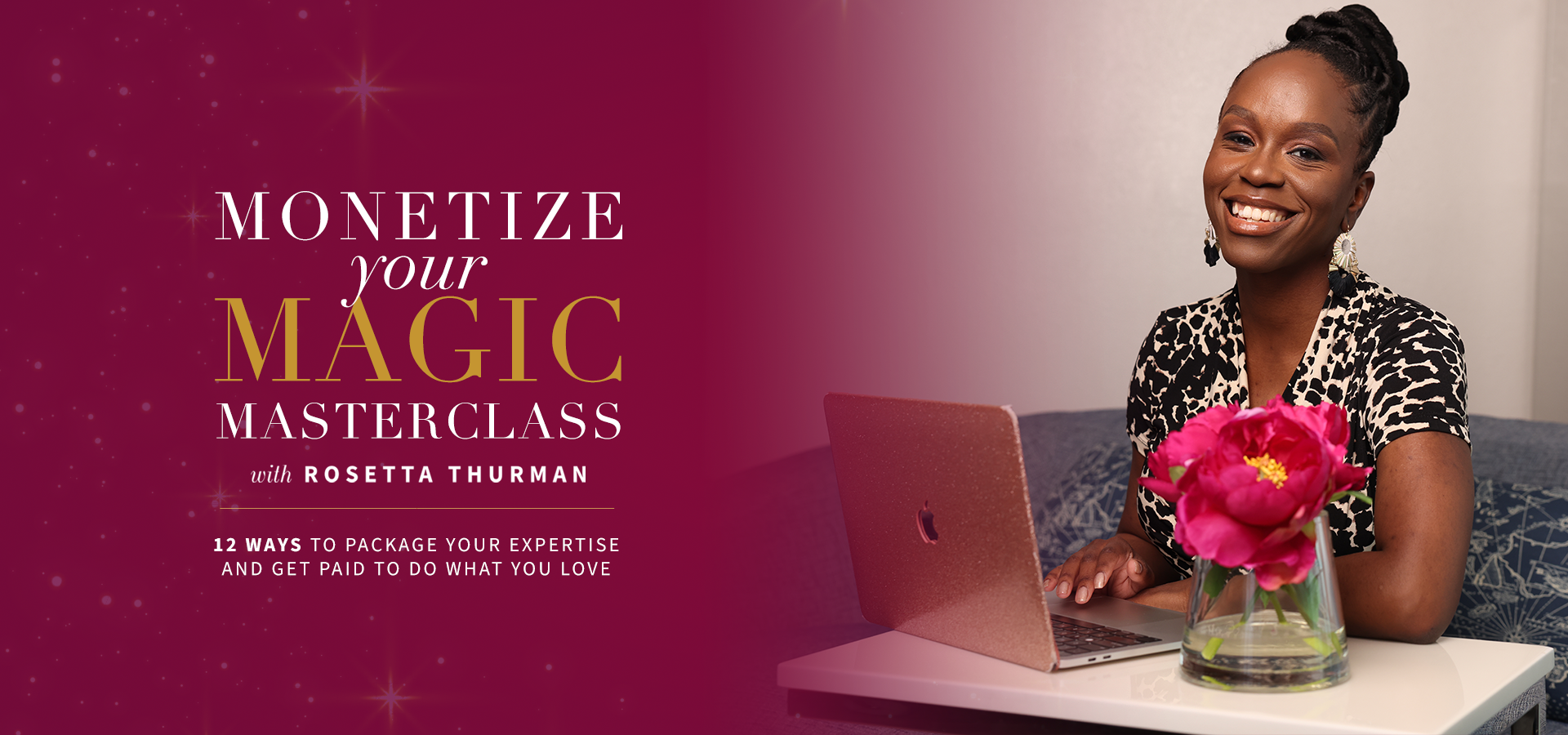 2-Hour Online Workshop with LIFE & Business Coach Rosetta Thurman
Dear Ambitious Black Woman,
It's time I let you in on something I always tell my clients: You're sitting on a goldmine.
A goldmine of talent, skills, and hard-won experience that can be packaged up and shared with the masses.
A goldmine of valuable MAGIC that if you would just do something with it…could literally make you tens of thousands of dollars, if not millions over time.
SERIOUSLY.
That vacation of a lifetime, a new car, quality education for your kids, your dream home and even your philanthropic legacy is just one powerful decision away: The decision to create, sell and deliver your OWN programs, products and services!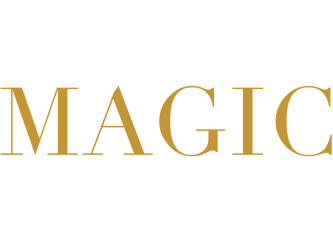 This is my popular 2-hour workshop that will show you how simple it can be for you to actually start getting paid (or get paid MORE) for your expertise and make a living doing what you love. 
Today, I get to share my gifts and walk in my purpose full-time through empowering others.  
And guess what? If you're reading this right now, you can do this, too!  
If you want to turn your expertise into a freedom-based business and lifestyle, then this workshop is for you! 
This workshop is designed to help you get started with not one, but 12 proven ways you can monetize your (Black girl) magic. 
And as usual, I'll be sharing real-world examples from me and my clients that you can model in your own business!
IN THIS WORKSHOP, YOU WILL LEARN:
How I went from working a 9 to 5 nonprofit job to running a profitable "work from anywhere" business that allows me to use my expertise to help others AND gives me the freedom to travel and live life on my own terms!
The most important mindset shifts you need to make in order to build a successful business and location-independent lifestyle in 2023
5 questions that will help you find your magic and get clarity on which business idea to focus on so that you can monetize quickly (this exercise will spark SO many ideas for you!)
12 different revenue streams you can create in your business based on your passion, skills, education, expertise and experience (these just might blow your mind)
PLUS: Live Q&A! Make sure you bring your questions, your pen and a notebook so you don't miss any valuable nuggets or action items from the workshop!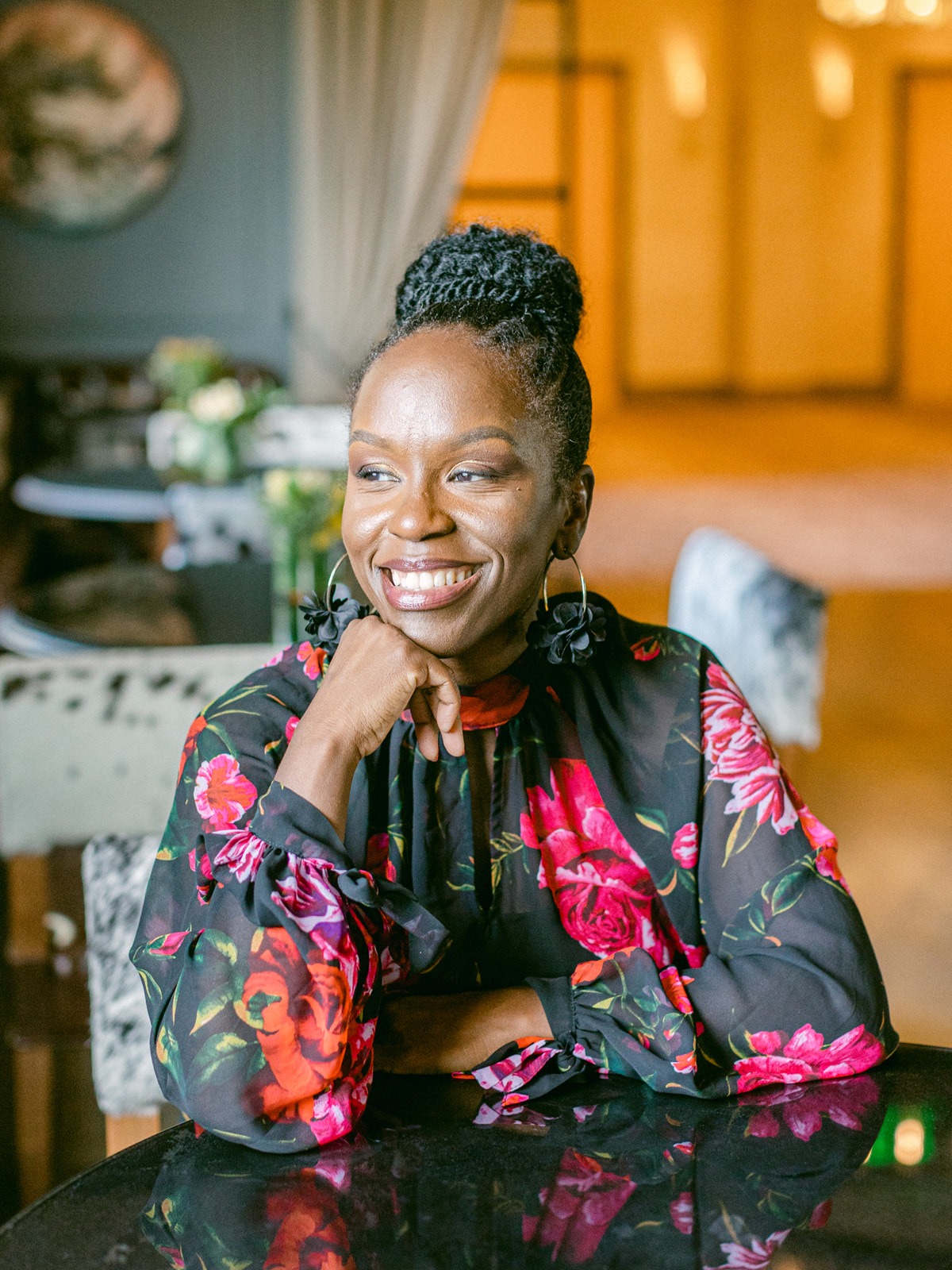 Rosetta Thurman is a life and business coach for Black women.
She is the Founder of Happy Black Woman®, where she empowers Black women to create their ideal lives.
Rosetta is the host of The Happy Black Woman® Podcast, author of Launch Your Business: The 5 Step Solution to Do What You Love, Quit Your Job and Have the Freedom to Travel and Live Life on Your Own Terms and co-author of How to Become a Nonprofit Rockstar: 50 Ways to Accelerate Your Career. 
Her practical advice and insight has been featured in top media outlets such as Essence, Black Enterprise, SUCCESS Magazine, Entrepreneur and Forbes, among others.
Rosetta holds a Master's Degree in Organizational Management and has taught leadership, business, and marketing courses at Trinity Washington University.
Her motto is a testament to her unwavering belief in the power of Black women: "You can do anything you want with your life and no one can stop you…but YOU!
Your registration includes the 2-hour video training hosted live on Zoom, a printable workbook and lifetime access to the recording.
Once you complete your registration, you should receive a welcome email with your workshop access details within a few minutes. When you receive this email, you are officially registered! If you don't receive a welcome email, then make sure to check your SPAM/JUNK folder in case it landed in there. Also – we recommend that you add support@happyblackwoman.com to your contacts so you don't miss any emails! TIP: If you're using Gmail, drag the email to your main inbox and STAR it as "important" to ensure that you receive our emails in the future.
REFUND POLICY: This online workshop is NON-REFUNDABLE. Refunds will not be granted under any circumstances. I know that if you follow the training and do the work, you will see results!
LEGAL DISCLAIMER: Every effort has been made to accurately represent this training and its potential. Any claims made of actual earnings are exceptional results and are not intended to represent or guarantee that anyone will achieve the same or similar results. Each individual's business success depends on their background, professional ability and level of follow-through. As with any business endeavor, there is an inherent risk and there is no guarantee that you will earn any money with the methods taught in this training. The resources provided are for educational purposes only and should not be misconstrued as legal or financial advice.