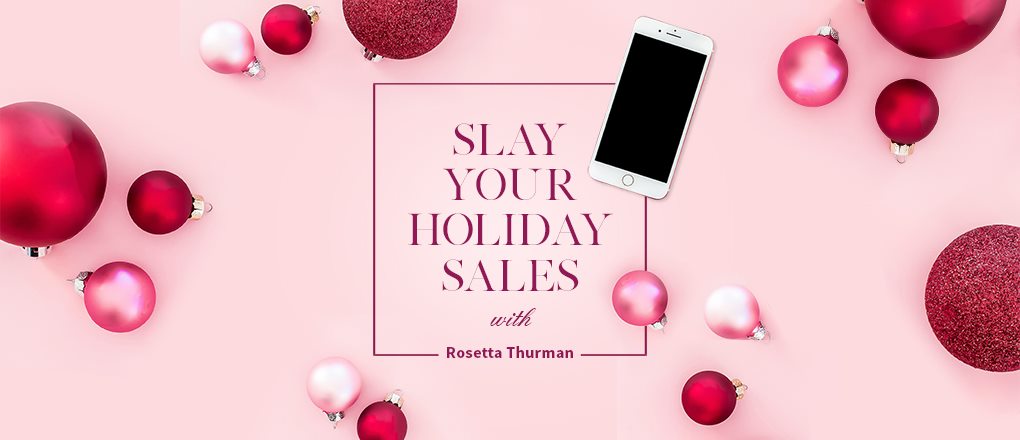 The Step-by-Step Process for Creating A "Hell Yes" Discounted Offer For Your Audience During One Of The Most Profitable Sales Periods Of The Year – From Thanksgiving Through The New Year!
Slay Your Holiday Sales will show you exactly how to bring cashflow into your online business in Q4 for any of the upcoming shopping holidays – Thanksgiving, Black Friday, Small Business Saturday, Cyber Monday, Christmas, Kwanzaa, New Year, etc.
You want to maximize your sales and increase revenue during the holiday season
Sales have been slow this year and you want to create a cash infusion into your business in Q4
You're on track to hit your revenue goals, but you want to see if you can exceed them this year!
LIFETIME ACCESS TO THE SELF-STUDY COURSE: $499 VALUE
THE ENTIRE SLAY YOUR HOLIDAY SALES COURSE WITH
4 STEP-BY-STEP TRAINING MODULES & PRINTABLE GUIDES
Inside Slay Your Holiday Sales, I breakdown proven strategies that you can use to sell more of your offers this holiday season and beyond. 


In this course:
Module 1: Craft Your Holiday Sale Offer
Module 2: Design Your Graphics
Module 3: Create Your Sales Page
Module 4: Write Your Sales Content
DESIGN YOUR SALES GRAPHICS
WHEN YOU ENROLL BY FRIDAY, OCTOBER 27, YOU'LL ALSO GET…
FAST-ACTION BONUS: LIVE 2-HOUR Q&A CALL
When you purchase the course by Friday, October 27, not only will you save 50% off the regular price, but you will also receive a LIVE 2-Hour Slay Your Holiday Sales Q&A Call with me as your business coach! This is time-sensitive and only available to those who take action before the end of this flash sale promotion. This will be a Group Q&A Call on Zoom where you can ask me ANYTHING about your business, your offers, your sales, your marketing, your tech, your social media or your action plan for the rest of 2023. The bonus Q&A will be conducted on Saturday, October 28 from 10:00am-12:00pm Eastern. It will be RECORDED so even if you can't make the call live, you will be able to benefit from everyone else's questions. I rarely offer these calls, so don't miss out!
WHEN YOU ENROLL NOW, YOU'LL RECEIVE…
THE HOLIDAY SALES EMAIL SWIPE FILE
When you enroll now, you will also receive my tried-and-tested "Holiday Sales Email Swipe File" to help you write your sales emails much faster. The swipe file contains over a dozen winning emails that I have used to generate between $5K- $25K in sales per campaign for Thanksgiving, Black Friday, Cyber Monday and more!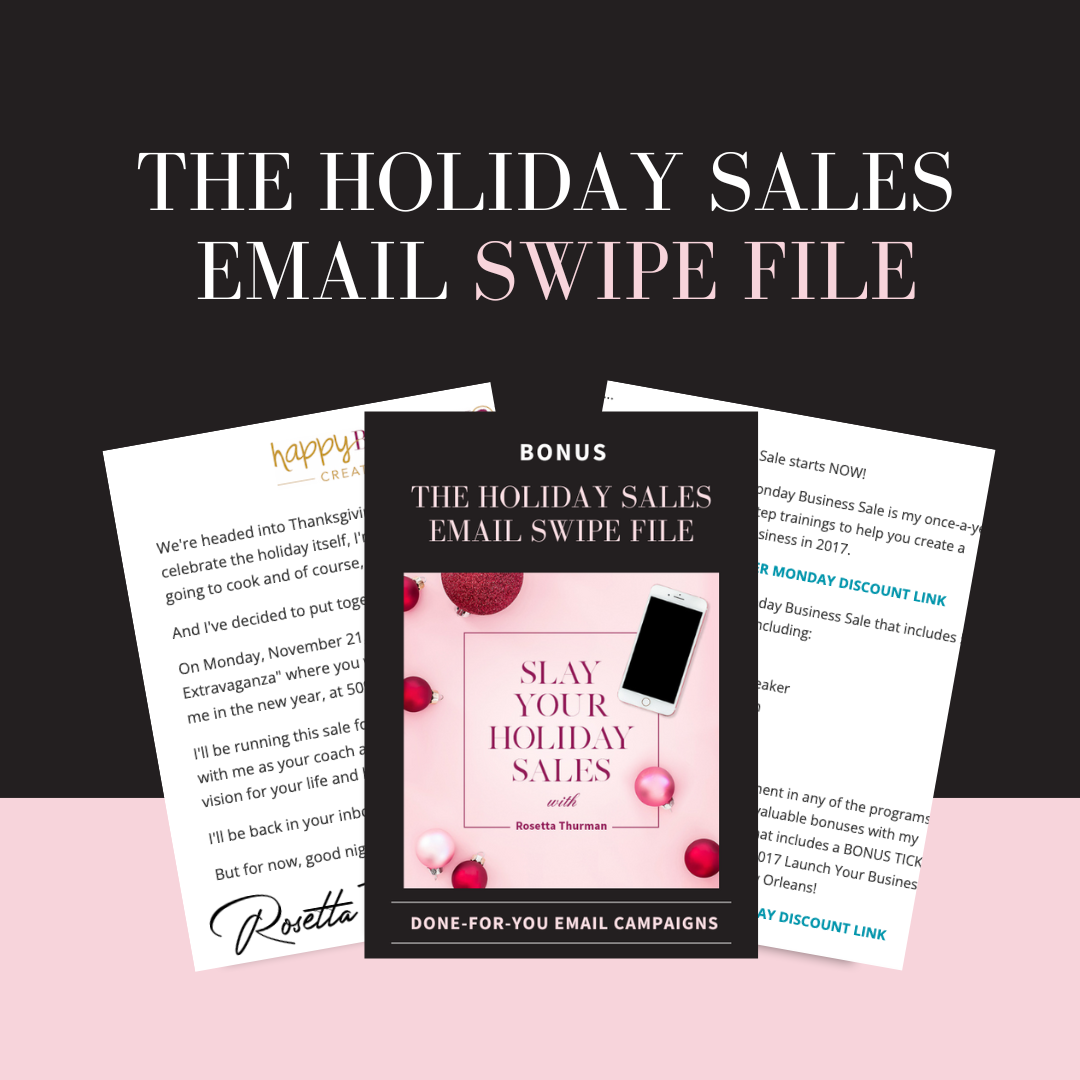 CLICK THE "buy NOW" BUTTON BELOW AND CHOOSE YOUR PAYMENT OPTION!
REFUND POLICY
This program is NON-REFUNDABLE. Refunds will not be granted under any circumstances. By purchasing this program, you are agreeing to be legally and financially responsible for the full payment, regardless of whether you utilize it or not. We know that if you do the work, you will see results!
Still have questions?
Please contact our customer service team via email:
support@happyblackwoman.com
LEGAL DISCLAIMER: Every effort has been made to accurately represent this training and its potential. Any claims made of actual earnings are exceptional results and are not intended to represent or guarantee that anyone will achieve the same or similar results. Each individual's success depends on their background, professional ability and level of follow-through. As with any endeavor, there is an inherent risk and there is no guarantee that you will earn any money with the methods taught in this training. The templates, worksheets and checklists provided are for educational purposes only and should not be misconstrued as legal or financial advice.