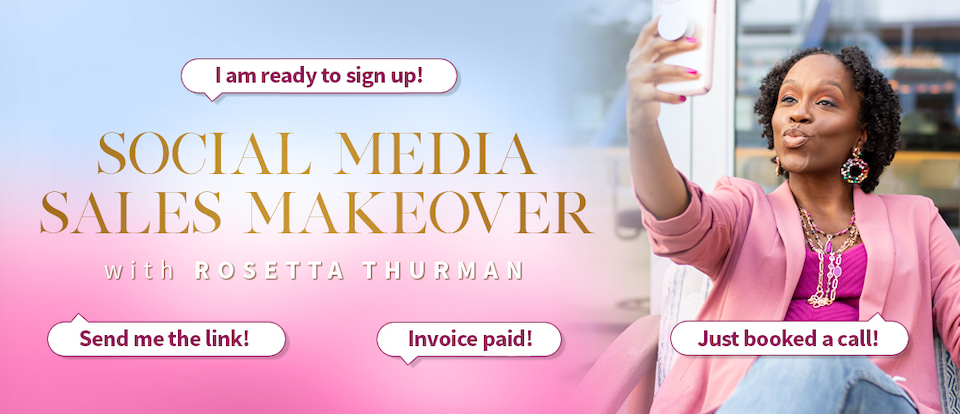 REVAMP YOUR SOCIAL MEDIA PRESENCE, GET MORE OF THE RIGHT FOLLOWERS & CREATE CONTENT THAT ACTUALLY LEADS TO SALES, NOT JUST LIKES!
Is it time for you to give your social media a makeover?
I've been on social media since 2007 and there have been SO many changes in the online space since then!
The internet is getting noisier overall.
More and more emails are going to spam.
The social media platforms, algorithms and trends are constantly changing.
AI is transforming every industry faster than most of us can comprehend.
All of which make it harder for ALL of us to get seen, noticed and hired by our ideal clients. 
Womp womp.
In fact, most Black women entrepreneurs tell me that they HATE being on social media because they don't see a return on their time investment in the form of more clients or sales in their business. 
Does this sound like you?
If so, I've got some good news…
It's not you. It's not your offer. It's not your business.
It's just the reality of the current online environment.
Here's a little context to help you see the big picture of what's really going on right now with social media marketing.
The great "Post-Pandemic Dropoff" is in full effect, with less people stuck at home watching all your videos and reading all your posts.
And unfortunately, less people paying attention to your business means less people buying your offers.
As a result, ALL of us are having to show up more than ever before in order to connect with and sell to our ideal clients.
In fact, according to the Forrester research firm, the number of buying interactions needed before making a sale increased during the pandemic from 17 to 27!

Which means that NOW is the time to adapt and double down on your social media marketing so that you can reach more of your ideal clients online.
That's why I'm so excited to help you become WAY more visible over the next 4 weeks by giving your brand, your followers and your content a complete MAKEOVER!
Social Media Sales Makeover is my 4-week group coaching program that will show you exactly how to revamp your online presence, grow your followers and create content that actually converts to sales, not just "likes."
We begin on Tuesday, September 5 with Module 1!
what you'll learn in the program:
BLOW UP YOUR BRAND
It's time to clearly communicate what you do and who you help so that your ideal client can actually FIND you on social media! Master the top "do's and don'ts" for instantly upleveling your overall online brand.
In this module, you will:
Conduct an "audit" of your social media profiles on the "big 3" social media platforms – Facebook, Instagram and LinkedIn
Revamp your social media bios to resonate with your ideal clients and make them feel like you can help them
How to use your unique "3-word brand" to build your content pillars and help you stand out on social media
How to share about your life authentically without having to tell all your business to strangers on the internet!
CREATE CONTENT THAT CONVERTS
No more posting randomly on social media! These content creation strategies will work whether you're selling low-end services or a high-end program.
In this module, you will:
Create valuable content FOR your ideal client using the 5 most popular post types
Leverage the different content formats that are working best on each social media platform
Write posts that will inspire people to not just "like" and keep scrolling, but to actually buy your offer or book a call!
Master my proven 5x5x5 social media sales strategy to help you show up online consistently so you can get more clients and make more sales in your business! 
GROW YOUR FOLLOWERS
Remember, it's about QUALITY, not quantity. Learn how to grow your audience with more of your ideal clients who want to hear what you have to say. It will literally blow your mind once you realize how simple it can be!
In this module, you will:
Get clarity on where to find more of your ideal clients on social media 
Increase your followers with or without paid advertising
Leverage your existing network so you can reach more of your ideal clients
Make growing your audience a natural part of what you do in your business every day
SOCIAL MEDIA SALES CLINIC
The final module is all about experiential learning! Rosetta will review student social media profiles and provide feedback and specific recommendations on what to change or improve. This is your chance to learn from real-life examples on how to use social media to get more clients and make more money in your business! 
what's included in the program:
ENROLL NOW AND YOU'LL ALSO GET…
BONUS #1
A Discounted Live Event Ticket
A discounted ticket to Manifest Your Vision 2024, Rosetta's 8th annual "new year" event for Black women entrepreneurs, being held January 12-14 LIVE in Fort Lauderdale, Florida! 
(Value: $995)
BONUS #2
"How to Sell on Instagram" Masterclass
In this 35-minute bonus training, you will learn:
How to sell your offers on Instagram so that you can get more clients on the platform
How to promote your offers on your IG stories, reels, feed & livestream
A clear sales strategy for monetizing your IG following
(Value: $200)
PAY IN FULL BONUS
A Private 30-Minute Social Media Sales Audit!
When you enroll in the program and pay in full, you will receive a 1-on-1 Social Media Sales Audit where Rosetta will review your online presence and provide recommendations for what to change or improve so that you can attract more of your ideal clients and increase your sales.
Rosetta will literally look through your social media platforms and give you detailed feedback that will help you make more money in your business! Get recommendations from an experienced expert for revamping your social media profiles and optimizing your content for more clients and sales. 
(Value: $500)
CLICK THE "ENROLL NOW" BUTTON BELOW AND CHOOSE YOUR PAYMENT OPTION!
REFUND POLICY
This program is NON-REFUNDABLE. Refunds will not be granted under any circumstances. By purchasing this program, you are agreeing to be legally and financially responsible for the full payment, regardless of whether you utilize it or not. We know that if you do the work, you will see results!
Still have questions?
Please contact our customer service team via email:
support@happyblackwoman.com
LEGAL DISCLAIMER: Every effort has been made to accurately represent this training and its potential. Any claims made of actual earnings are exceptional results and are not intended to represent or guarantee that anyone will achieve the same or similar results. Each individual's success depends on their background, professional ability and level of follow-through. As with any endeavor, there is an inherent risk and there is no guarantee that you will earn any money with the methods taught in this training. The templates, worksheets and checklists provided are for educational purposes only and should not be misconstrued as legal or financial advice.