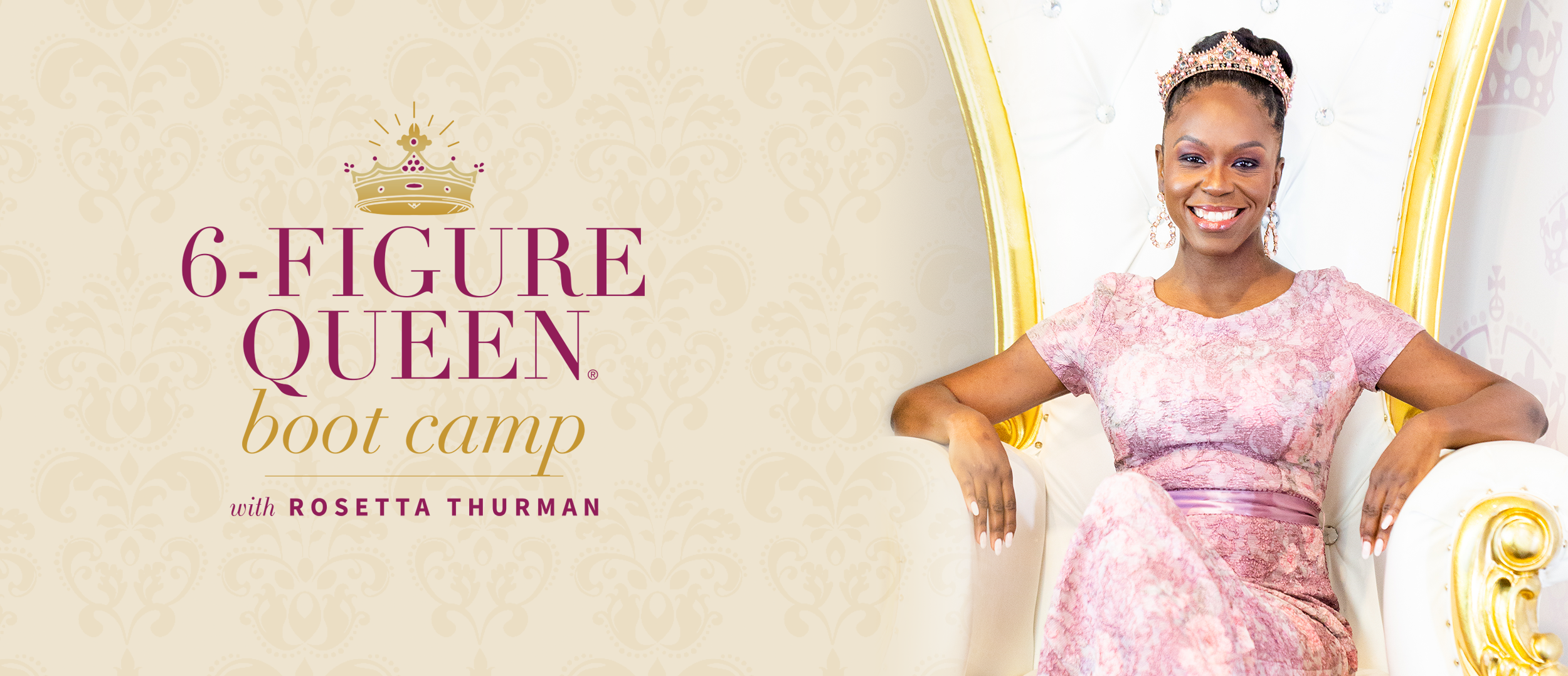 NEXT BOOT CAMP: JUNE 23-25, 2023
A 3-DAY VIRTUAL WORKSHOP FOR
AMBITIOUS BLACK WOMEN ENTREPRENEURS
Join Rosetta Thurman June 23-25, 2023 at a 3-day workshop for Black women coaches, consultants, course creators and service providers who are ready to grow their business to 6-figures and beyond – on their own terms.
It's called The 6-Figure Queen Virtual 3-Day Boot Camp and you can attend from the comfort of your home, no travel required!
It's literally like taking a 3-day online course LIVE, in real-time, on how to take your business from where it is now to where you want it to be! PLUS, you'll get to meet and network with other Black women entrepreneurs just like you!
In just 3 days, you will learn a step-by-step blueprint that will show you exactly how to design (or redesign) your business so that you can not only generate 6-figures in revenue, but also be able to pay yourself a 6-figure SALARY and fund your ideal lifestyle.
As a Black woman entrepreneur, you deserve to fulfill your purpose, be well-compensated AND be happy – all at the same time. Let's make sure your business plan reflects that!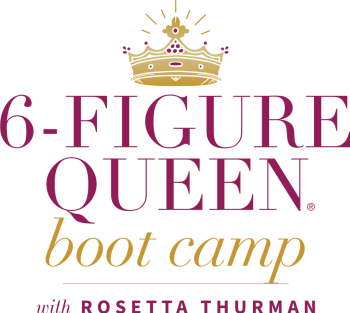 YOU'RE AN AMBITIOUS BLACK WOMAN COACH, CONSULTANT, COURSE CREATOR, SPEAKER, TRAINER, EVENT HOST, SERVICE PROVIDER, AUTHOR, EXPERT OR INFLUENCER
YOU'RE TIRED OF PLAYING SMALL AND YOU'RE READY TO RISE INTO YOUR FULL POTENTIAL AND MANIFEST YOUR FIRST OR NEXT 6-FIGURE YEAR
YOU DESIRE TO BUILD A "WORK FROM ANYWHERE" BUSINESS THAT CAN PAY YOU A 6-FIGURE SALARY SO THAT YOU CAN FUND YOUR IDEAL LIFESTYLE
YOU NEED TO GET CLARITY ON YOUR BUSINESS GOALS AND DEVELOP AN ACTION PLAN TO FINISH THE YEAR STRONG
YOU'RE CRAVING COMMUNITY AND SISTERHOOD WITH LIKE-MINDED BLACK WOMAN ENTREPRENEURS!
Queen, it's time for you to start making a LOT more money in your business…
So that you can do things like:
Quit your job
Pay yourself a 6-figure salary
Hire awesome team members to support you in the business AND at home
Travel to all your "bucket list" destinations
Buy the best health insurance for you and your family
Set yourself up for retirement
Purchase or pay off your dream home
Reinvest back into your business
Increase your giving and philanthropy
Prioritize your personal development
Take exquisite care of yourself
…and so much more!
Now is the time for us to leverage the power of online entrepreneurship to gain freedom and build wealth.
Now is the time for us to monetize our "Black girl magic," raise our prices and get paid a lot more money.
Now is the time for us to stop surviving and start thriving as the true Queens we are.
Are you ready? Your journey begins now.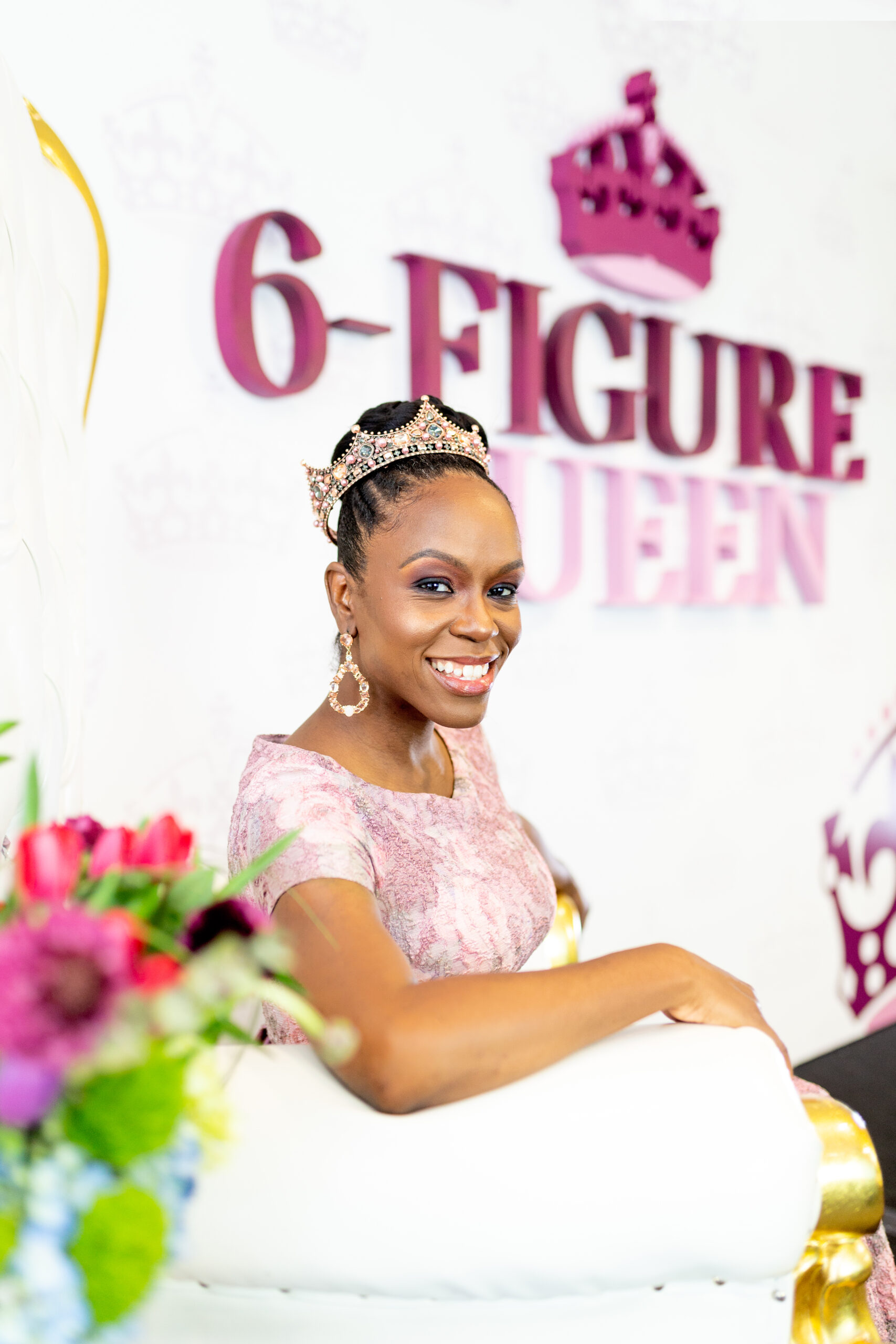 3-DAY BOOT CAMP
SCHEDULE & AGENDA
JUNE 23
10:00am – 4:00pm Eastern
MINDSET & OFFERS
Discover Your 6-Figure Vision
Cultivate a 6-Figure Mindset
Design Your 6-Figure Offer Suite
JUNE 24
10:00am – 4:00pm Eastern
MARKETING & SALES
Create Your 6-Figure Money M.A.P.
Develop a 6-Figure Marketing Plan
Establish a 6-Figure Sales Process
JUNE 25
10:00am – 4:00pm Eastern
SYSTEMS & TEAM
Build Your 6-Figure Team
Set Up 6-Figure Systems
Implement Your 6-Figure Action Plan
YOUR BOOT CAMP
TICKET INCLUDES:
BONUS #1
5-DAY REPLAY ACCESS TO WORKSHOP RECORDINGS
Missed a session? Couldn't attend the entire workshop live? No worries! All registered attendees will be able to watch the recordings for 5 days after the event, directly inside of our private attendee-only Facebook group!
BONUS #2
PRINTABLE BOOT CAMP WORKBOOK
Your boot camp ticket comes with a beautiful printable workbook, including Rosetta's proprietary "Money M.A.P." process that she and her clients use to plan out their revenue, month by month!
BONUS #3
ACCESS TO ATTENDEE FACEBOOK GROUP
Join our private attendee-only Facebook group where you will receive 7-day replay access to the workshop recordings. PLUS: Ask questions, share takeaways and network with your fellow business queens before, during and after the workshop!
BONUS #4
6-FIGURE QUEEN PLAYLIST
Workshop attendees always rave about this bonus! After the boot camp, you will get access to Rosetta's exclusive 6-Figure Queen Playlist with songs to inspire you as you grow your business this year!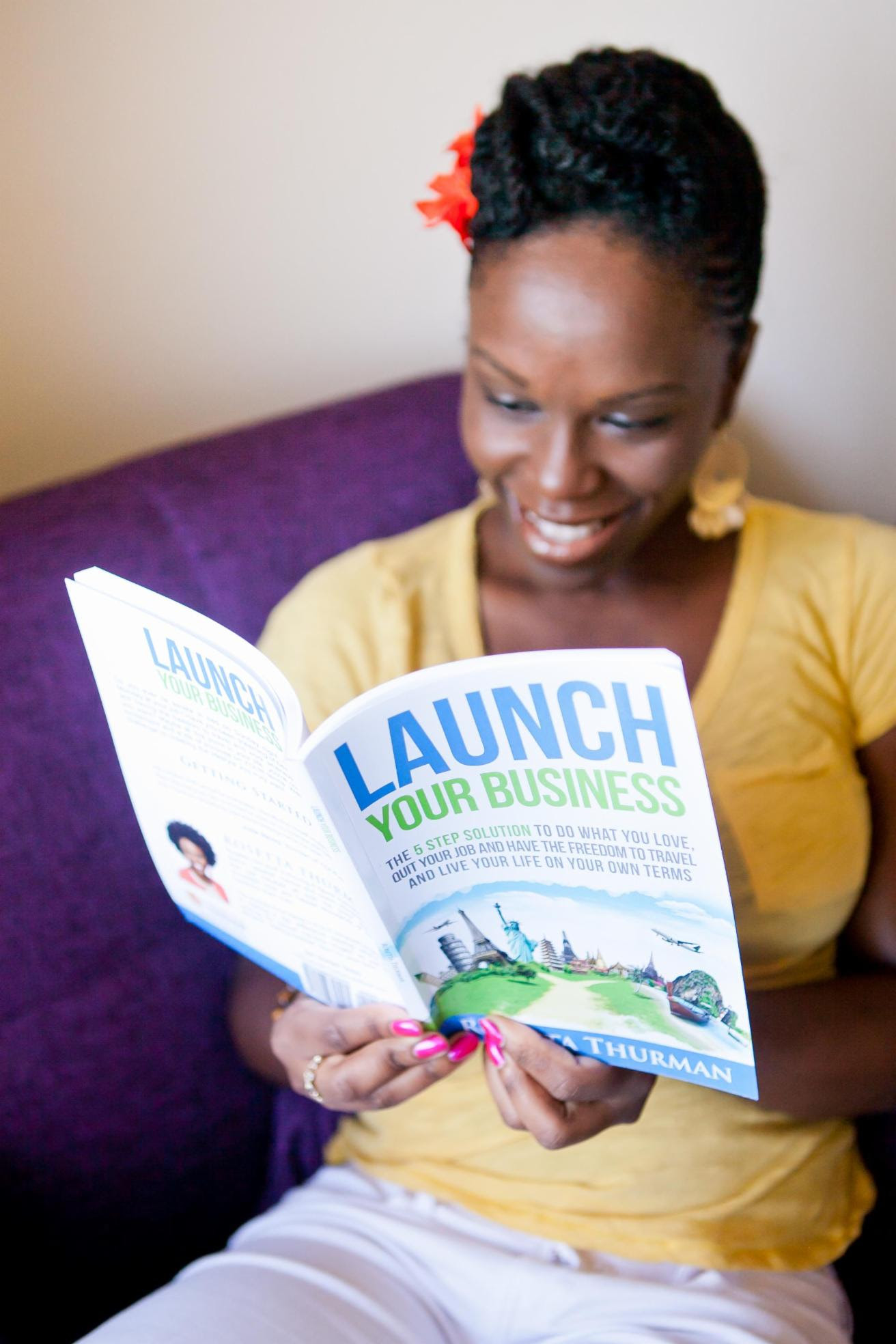 MEET YOUR COACH: ROSETTA'S STORY
Rosetta Thurman is the Founder of Happy Black Woman® and a business coach for Black women entrepreneurs.
In 2008, Rosetta launched her first business, offering her services as a nonprofit consultant, speaker and coach. 
It started as a "side hustle," where she ended up making an extra $10K-$20K a year on top of her salary from her 9 to 5 at a nonprofit in Washington, DC. 
She quickly realized that she could use her skills outside of her nonprofit job and make additional income doing what she loved!
In 2010, Rosetta quit her job to work for herself full-time and was able to replace her salary. 
It was then that she created a personal blog called "The Diary of a Happy Black Woman" to document everything she was doing to transform her life and build her business!

In 2011, Rosetta decided to become "location-independent" and got rid of all her stuff, ended her apartment lease and began traveling the world with just a suitcase and a laptop. 
For 4 years, she was a "digital nomad" – living and working from her dream destinations of Hawaii, Greece, France, Italy, Spain, Mexico, Bali and more!

By 2013, what started out as "just a blog" had evolved into a popular women's empowerment brand and supportive community of thousands of like-minded Black women with big visions for their lives. 
This was the year that Rosetta made the decision to shut down her nonprofit consulting business and focus on Happy Black Woman® full-time!
Fast forward to today and the Happy Black Woman® brand has empowered hundreds of Black women through online courses, digital products, books, live and virtual events, retreats, coaching and masterminds. 
Rosetta is the author of Launch Your Business: The 5 Step Solution to Do What You Love, Quit Your Job and Have the Freedom to Travel and Live Life on Your Own Terms and the co-author of How to Become a Nonprofit Rockstar: 50 Ways to Accelerate Your Career. 
She has also been featured in numerous media outlets, including Essence, Black Enterprise, SUCCESS Magazine, Entrepreneur and Therapy for Black Girls.
Rosetta holds a Master's Degree in Organizational Management and has taught business and leadership courses at Trinity Washington University. 
Rosetta currently lives in the Washington, DC area. In her free time, you can find her traveling to the next country on her bucket list, in the kitchen cooking a new recipe or curled up in a chair reading a good book.
Her motto is a testament to her unwavering belief in the power of Black women: "You can do anything you want with your life and no one can stop you…but YOU!
Your event ticket is non-refundable, but fully transferable to another person if you can no longer attend. Please email us at support@happyblackwoman.com if you would like to transfer your ticket!
LEGAL DISCLAIMER: Every effort has been made to accurately represent this training and its potential. Any claims made of actual earnings are exceptional results and are not intended to represent or guarantee that anyone will achieve the same or similar results. Each individual's success depends on their background, professional ability and level of follow-through. As with any endeavor, there is an inherent risk and there is no guarantee that you will earn any money with the methods taught in this training. The templates, worksheets and checklists provided are for educational purposes only and should not be misconstrued as legal or financial advice.