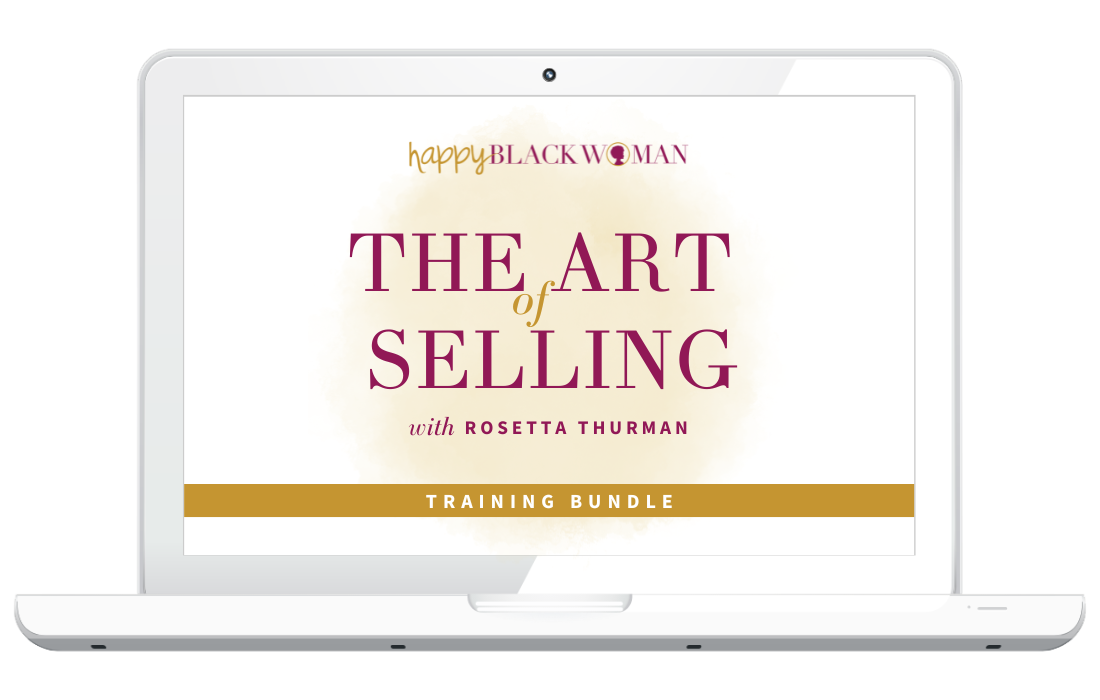 Tap Into the Inspiration You Need to Increase Your Prices, Get Higher-Paying Clients and Make More Money in Your Business!
One of the things I've learned after running online businesses since 2008 is that selling is an ART, not a science.
I've sold over $3.5M of programs and services over the past 7 years and yet…there's STILL always another level to reach when it comes to mastering sales!
That's why I'm so excited to present to you…
The Art of Selling Bundle!
This is a 7-video training bundle that will give you the empowerment and inspiration you need to increase your prices, get higher-paying clients and make more money in your business.
I originally recorded these trainings as livestreams for my tribe and now these in-depth videos are ONLY available to my paying clients.
Each training video is full of mindset tips and practical strategies around making high-end sales in your business.
Plus, I've included journaling homework to go along with each video so that you can shift your mindset and integrate the concepts quickly!
There is a total of over 7 hours of training included in this bundle.
And as soon as you enroll, you will get instant access to these powerful teachings!
Here's Exactly What You're Going to Learn:
Video 1: The Mindset of Selling & The Energy of Sales
In this video, you will learn:
How to create empowering beliefs about sales and money
My 3 favorite money mantras I use in my business
The difference between turtle and cheetah energy in your business (trust me, you'll love this concept)
How to sell consistently and make money in your business every month
Video 2: The Difference Between Selling Low-End vs. High-End
In this video, you will learn:
Examples of LOW-END offers and price points
Examples of HIGH-END offers and price points
How service providers can create high-end packages and have more stable, consistent revenue coming in
Ways to sell low-end vs. high-end online
What discovery calls are and are NOT
Why you don't need paid advertising to get high-end clients
Whether you should start with low-end or high-end offers in your business.
Video 3: The Kind of Woman You Need to Become to Grow Your Business to 6-Figures & Beyond 
In this video, you will learn:
How to tell if you're truly committed to your business vision
The difference between conditional goals & unconditional goals
How to know if you live in Fantasyland or Realityville
The importance of knowing your numbers in your business
What kind of investments a 6-figure online business owner needs to make
Video 4: 3 Steps to Manifest High-End Clients
In this video, you will learn:
Why most coaches, consultants and service providers don't make the kind of money they really want
What is a high-end offer and how to create one
6 examples of high-end offers you can create and sell for $1K or more right now
My 3-step process for manifesting high-end clients with ease
Video 5: Sell Like a Queen
In this video, you will learn:
Why you need a high-end offer if you want to scale to 6-figures faster ​
The mindset of charging $1K or more for your programs and service
My 4-step sales method for attracting high-end clients​
Video 6: 4 Steps to Manifest Your First $10K Month
In this video, you will learn:
The benefits of charging higher prices – for you AND for your clients
Important mindset shifts you need to make in order to charge $1K or more for your offers and attract higher-paying clients
The "easy button" method that my clients have been using to scale to 6-figures, while only working an average of 10 hours per week (this case-study breakdown is going to blow your mind!)
The 4 steps you need to take to hit your first $10K month doing what you love!
Video 7: Simplify Your Sales: How to Attract High-Paying Clients on Social Media & Have Your Biggest Month Ever! 
In this video, you will learn:
What you need to believe in order to start charging $1K or more for your offers and make more money in your business
The only 3 things you need to have in place before you can sign high-paying clients
The simple sales strategy that my clients have used to manifest 5-figure months
The Art of Selling Bundle Includes:
7 In-Depth Training Videos with Rosetta Thurman
Journaling Homework for Each Video That Will Help You Shift Your Mindset and Integrate the Training Concepts Quickly
LIFETIME ACCESS to the Trainings So That You Can Keep Learning From the Material as You Increase Your Sales and Grow Your Online Business!
*** HOW TO PURCHASE THE BUNDLE ***
Click the payment button below to purchase the sales training bundle. Once you complete your payment, you will automatically be sent a welcome email with your program access details! Be sure to check your spam, junk or promotions folder in case your welcome email lands in there. I can't wait for you to get started!

What Students Are Saying:

Frequently Asked Questions
Q: How does The Art of Selling Bundle work?
A: This training bundle is self-paced and has already been pre-recorded for you, so you can begin right now! You get instant access to all 7 training videos. And you have LIFETIME access to the program!
Q: What kind of business will this training work for?
A: This training bundle was created for coaches, consultants, course creators, service providers and experts who want to shift their mindset around high-end sales so that they can get more clients and increase revenue in their business.
Q: What's the difference between the Art of Selling Bundle and the Sales Queen course?
A: Sales Queen is my signature LIVE group coaching program. It is 5x the price. In a nutshell, my Sales Queen course is more in-depth because you receive live trainings with me, PLUS you also get to ask me questions in our private Facebook group.
Q: What happens after I sign up?
A: Once you complete your payment, you will automatically be sent a welcome email with your access details for the program!
Q: What is the refund policy?
A: This purchase is NON-REFUNDABLE. Refunds will not be granted under any circumstances.